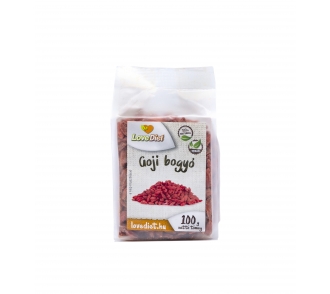 ---
---
Ingredients: goji berries
DOWNLOAD LOW RESOLUTION IMAGE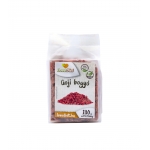 DOWNLOAD BIG RESOLUTION IMAGE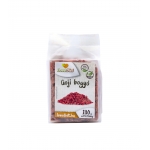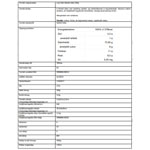 It is the dried fruit of a plant from Chine, its taste is harsh and sweet. First class quality.
It is known for its high content of vitamin C. In addition, it is rich in amino acids and minerals.
The first records of goji berries are 5,000 years old. Goji berry is also known as Wolfberry, the second fruit in the world that contains the largest amount of vitamin C. It has a high content of antioxidants and copper.
The recommended daily amount for adults is not more than 20-30 g.
Average nutritional values in 100 g product

Energy:

1439,84k J/ 343,9kcal

Fat

7,14 g

Carbohydrate

57,82 g

Protein

55,7 g

Fiber

12,01 g

Salt

 7,78 g