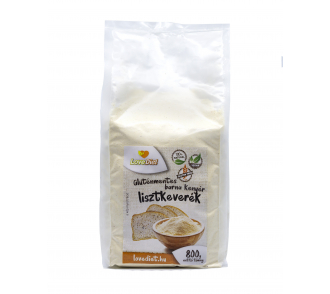 ---
---
Ingredients: rice flour, corn starch, corn flour, buckwheat flour, millet flour, powdered sugar, guarbab flour, yeast (baking soda)
DOWNLOAD LOW RESOLUTION IMAGE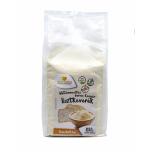 DOWNLOAD BIG RESOLUTION IMAGE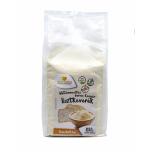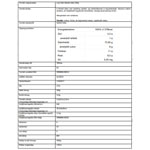 Love Diet Gluten-free brown bread flour mixture is mainly suitable for breads and other bakery products.
INGREDIENTS
500 g of brown bread flour mix
35 ml of oil
30 g of fresh yeast
15 g of salt
550 ml of lukewarm water 
Preparation:
Add the chopped yeast to the 500 g of brown flour mixture, and also salt, but in order that the salt does not come into contact with the yeast, pour the oil on the whole. Then add the lukewarm water continuously and mix with a mixer until the dough becomes foamy and soft. Pour the existing dough into a deeper baking mould or dish, which has already been greased with oil before. It is recommended to divide the amount of dough into 2 parts and fry it in 2 oven. Cover the dough and put it in a warm place for 40 minutes. Bake the bread in a preheated oven at 250 degrees for about 20-25 minutes until the outside is light brown. 
| | |
| --- | --- |
| Energy: | 1572kj/374kcal |
| Fat: | 3,4g |
| wich of saturates: | 0,6g |
| Carbohydrate: | 73,4g |
|    wich of sugar: | 0,43g |
| Protein: | 9,33g |
| Fiber: | 6,4g |
| Salt: | 0,026g |